Sad but true
Evil Fraggers
2014-06-17 at 9:22 AM -
xion4
Sad news, we decided to cancel our server subscription due an empty server as a result of provider problems. Server kept being unstable.

We will now check if there is any use for a new server as there seems to be a big update coming.
New old server
Server
2014-04-06 at 1:25 PM -
xion4
Due to some major issues on our main server, we decided to shut that one down and make our second server the main server. Our host wasnt able to offer a smooth running server.

We are not happy about that, but we we have to face it: we wanna keep you guys playing, and that wont work without a perfect server, so we keep trying:


Winter Season is over, Welcome the spring.
Evil Fraggers
2014-04-01 at 4:57 PM -
xion4
So guys, Winter is over, we got a new Season winner.

The Sun wasted almost 10 days on our server. (which is quite the effort with the struggling server performance last couple of weeks)

Gratz to all of you, good job.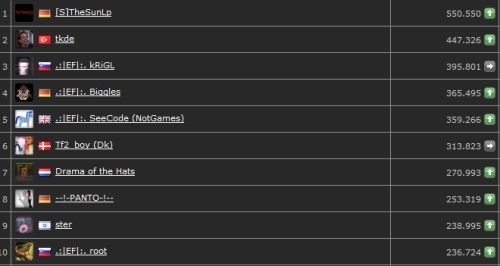 Wall of shame
Server
2014-01-12 at 9:40 AM -
xion4
Here we go, our wall of shame:
Point Farming:
Stats Cheating
Teamfortress
2014-01-07 at 8:18 PM -
xion4
Hey everyone,

due to more and more stats cheaters we will openly frame them here on the news from now on, so they might realise that they were cheating thousands of other honest Fortress of fun players.

Additionally to that they are 2 steps of consequences:

1. WE WILL DELETE ALL HIS POINTS

If we find out he did it again (and we will find out thx to gameme stats!)

2. A PERMANENT BAN will follow.

If you did engage in point farming and we caught you, at least be so mature and honest to admit it and don't call us liars like this guy did:

H!Pp0p0t4mU$

How will he explain away 1.200 intel pickups in a 81 minutes session and almost 32.400 points with 74 kills? See for yourselves: Stats

So better think twice before you do it, because we will find out. This community deserves fair players with fair chances.

Your Fraggers
New Year, New Season, New Chance
Evil Fraggers
2014-01-01 at 12:40 PM -
xion4
Fall Season 2013 ended with a surprise, finally we have the first season winner who is not a member of the Evil-Fraggers-Clan.

Congratulations to Petrov, who had a remarkable Fall Season and ended the Fraggers Winning Streak.

Will he succeed again? Will MAd be back and win the season? Or will there be a new winner? Lets see what you got!!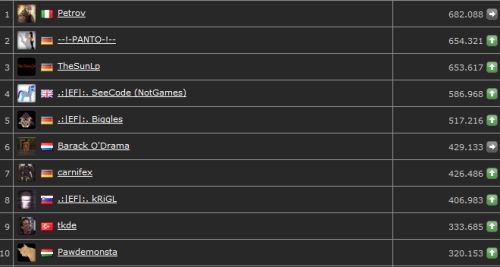 Halloween 2013 is here!
Gaming
Halloween event 2013 is now here!




Running on server 2 (173.199.111.69:27015) if you haven't already added it to your favourites.

New maps and items over the next few days. See http://www.teamfortress.com/bazbobarrabus/ for details.

New Season, New Challenge, New Chance
Evil Fraggers
2013-10-01 at 4:39 PM -
xion4
Summer Season 2013 is over, once again MAd was mad enough to waste a lot of time on this server to gain the top spot again.

Congratulations.

So guys, stats are set to zero, so if you are sick seeing MAd on the Top Spot, how about you beat him down? We keep doubled points for the first week of october, take your chance!!!!